DRY SYSTEMS Product information for
Dust Collectors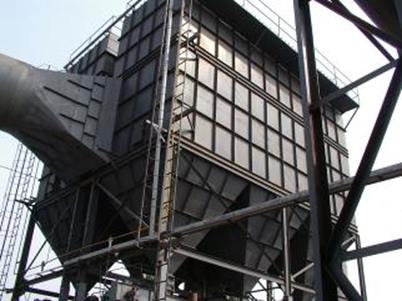 Working Principles of Dust Collectors
All Bag Dust Collectors carried by Watson Process Systems are of outside bag collection with pulse-jet cleaning system. This configuration has the bad closed at the bottom and open at the top. A metal cage is employed within the bad to keep the bag from collapsing. In the normal mode of operation, the dust-laden gas enters the baghouse from the bottom and proceeds to the bags. The dust is collected on the outside of the bags and the cleaned gas exits through the top of the bags and baghouse, and then is discharged to the exhaust pipe and eventually to the atmosphere. If the pressure difference between outside and inside of the bag increases to the pre-set criteria, the electromagnetic pulse valve will start the dust blowing function according to the pre-set program by the electrical control device, to ensure a normal operation.
The Electric Controller, as one of the main components of the Bag Dust Collector, has both control logics of time-controlled and pressure-difference-controlled to ensure the proper cleaning functions with various mechanisms of automatic control. For normal and stable working conditions, time-controlled cleaning method is adopted; while for different soot conditions and specific requirements of application systems, the pressure-controlled cleaning logic should be employed to ensure a satisfactory performance.
The Electromagnetic Pulse Valve, another important component of the Bag Dust Collector, features a high exhaust volume and a high circulation coefficient, thus ensures a satisfying de-dusting result.
The Filtration Bag Cage for the filtration bag is of a great rigidity and a smooth surface. They are welded and coated with organic silicon to extend the life span of the bags.
 Applications
According to different working conditions of the dust –laden gas, proper filtration media and wind speed must be carefully selected. This makes sure that the Bag Dust Collector can be widely utilized for purifying dust-laden gas and recycling dusty material in various fields, such as chemical engineering, building materials, metallurgy, mechanics, food processing, petroleum, pharmacy, garbage incineration, thermal power generation, industrial kiln, etc.
Common Features of Our Dust Collectors:
The blowing tube structure ensures equal amounts of volume and pressure when blowing.

The modular filtration resistance testing system can detect a broken bag instantly (for bag-type dust collectors)